Colorpoint Technology Co., Ltd. was established in 1998 with over 15 years experience specialized in manufacturing high quality LaserJet, Copier toner and Inkjet cartridge through distribution network channel in Europe, Oceania, Asia, Africa and America.
Mold Tooling and Manufacturing Technology
We Colorpoint consider ourselves to be an engineering company that manufactures world-class consumable supplies, and we are always at the forefront of technology. To build the highest quality and reliable consumable supplies, we invest into the research and development of new products, mold tooling and technologies to always ensure our customers have every competitive advantage to succeed.

In order to avoid the legal issue of patent, Colorpoint invents and builds its own tools, equipments and machines to make patent free products. Therefore our customer can only focus on sales without any legal issue of patent from OEM vendors.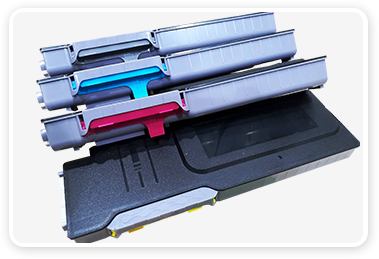 2010, the Colorpoint Research and Development Team invented a proprietary and patented solution to produce some of key components of LaserJet toner cartridges. This new investment and manufacturing technology ensure Colorpoint's toner cartridges have a high quality and reliable performance.

Colorpoint will continue to expand our facilities and invest into complex technologies and creative solution to reach the quality standard of OEM consumable.
Quality and Reliability
Great compatibility and performance

All Colorpoint's products are guaranteed to be fully compatible with the original cartridges and made with the finest materials and components are imported from Japan, Germany, Taiwan and USA.

Great Quality

Colorpoint engineers design unique and special tools and equipments together with these A grade and A brand components and raw material for Colorpoint's products. With Our comprehensive QC program and system with on line QC staffs to make sure that all products are in good condition from raw material to final product.

Great page yield

Colorpoint follow DIN 33870/33866, DIN33871-1 and ISO 19752/19798 regulation and standard therefore all Colorpoint's standard toner and Inkjet cartridges can at least reach the page yield of OEM consumable.